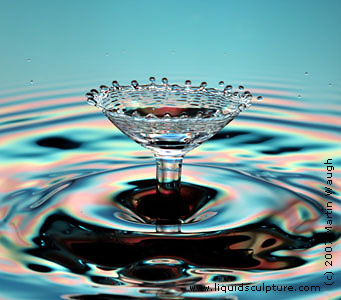 I suppose it's obvious to many that water is a special substance. To recount a few of its properties that make it so:
It has the highest surface tension of any liquid except mercury.
It has one of the highest heat capacities of all materials.
It expands (floats) when it freezes.
It is a nearly universal solvent.
For my work with water drop photography, the surface tension is the most important of these, since when the volume of water is small, surface tension is by far the strongest force at work. This force is responsible for the marvelous splashes that are possible.
For example, when a drop splashes and forms a column, the diameter of that column is largely determined by the surface tension: the higher the tension, the larger diameter of the column, all other things being equal. Put a bit of soap in the water, and the column is quite thin and tall. Also, when the column falls back down, it "falls" 5 times faster than gravity would have it fall, because it is the surface tension pulling it downwards.
The other property of water that is important in determining the shape of water drop splashes is the viscosity. Water has a fairly low viscosity, especially warm water (I have to admit that I didn't realize how much less viscous boiling water is that cold water – about 1/6 as viscous. When I learned this it made sense why I much more often splash hot water on myself – it really is splashier.) Sometimes I add glycerin to the water I use to increase its viscosity. It makes for a smoother, slower flowing liquid.