Once you try to produce a stream of drops at a steady rate, you begin to realize it isn't as simple to do as it is to say. The temptation is to use a siphon or IV drip of some kind. The problem with these is that the amount of pressure behind the stream is dependent on the water level. As the level decreases, so does the pressure, and the rate of flow.
I ran across the solution to this a few years ago (having a degree in physics, I am ashamed to say that I didn't know of it before). It is called the "Mariotte siphon". It is well-known to people who do irrigation in rural areas, as a simple concrete box of this design can deliver a steady flow of water to a field. The basic diagram is: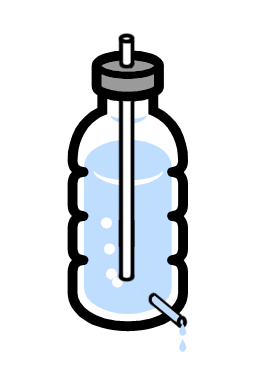 Mariotte Siphon
Cleverly simple and quite effective. The head (pressure) is dependent on the height between the bottom of the vertical tube and the final outlet of the liquid. The level of liquid in the bottle is irrelevant. I have built one using a soda bottle, a plastic drinking straw, and epoxy.