Continued from previous post…
The usual means of capturing drops is to release the drop from a dropper and use an electronic circuit to recognize when the drop is in motion, wait for a precise amount of time, and trigger the flash. The important thing is to have a reliable, repeatable method.
A photogate ("electric eye") makes a good way of recognizing the drop's presence. Such a mechanism involves a light source and a light-sensitive device. Common designs employ an (infrared) LED and a phototransistor, or photodiode, or cadmium-sulfide cell. HiViz.com has some designs to choose from; I have used one from the CMOS Cookbook by Don Lancaster.
The timing needs to be accurate to 1/2 millisecond (1/10 millisecond is preferred). Since an average fall time might be 1/2 second, the timing should be accurate to one part in a thousand, or 0.1%.
I have built my own timing and triggering devices (a few different ones, as I learned how to do it better.) Here is my most recent contraption: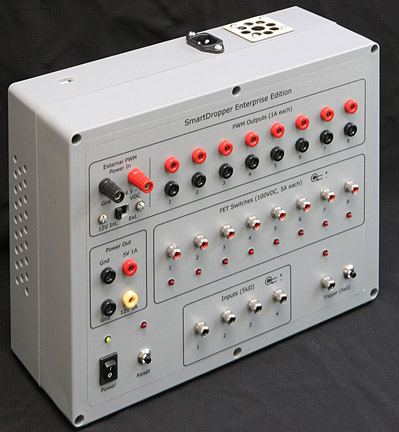 It is overkill for anything I have needed to do, but I don't worry about coming up short. And, I can use it for a variety of other things around the studio. It contains 10 microcontrollers programmed via USB. I created a graphical interface on a PC to configure it. It is accurate to one microsecond.
My experience is: if you want an electronics project that will take a lot of your time (unless you're already an EE), then design and build your own. If you want to take pictures instead, purchase the equipment. Two sources are BMumford and WoodsElectronics. Both offer timing devices and various triggers. They may seem expensive, but if you value your time, they're a bargain.
To control the camera electronically, I modified a RS-80N shutter release which I can control via a transistor. Here is the pinout for the RS-80N: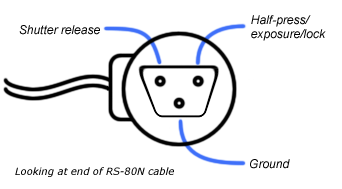 All that is needed to take a picture is to ground the shutter release pin. I added a 3/32″ stereo phono plug to the case so I can plug in my control cable when I want: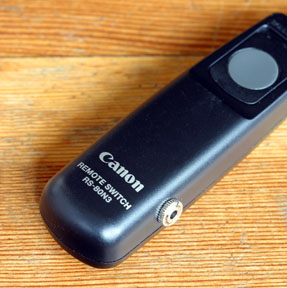 Next, The Liquids