Continued from previous post…
I use fairly typical high-speed photography techniques:
I leave the shutter open for a relatively long time (in a darkened room) and use a flash to illuminate the splash. The flash needs to be of a fairly short duration to stop the motion well. I use something like a 50 microsecond flash. I get this by modifying the photo sensor circuit on Vivitar 285HV flash. www.hiviz.com describes the technique (as well as the theory of xenon flash units). I replaced the photo sensor with a variable 20K ohm potentiometer so I can set the duration at will. Here is a graph showing the relationship between resistance and flash duration: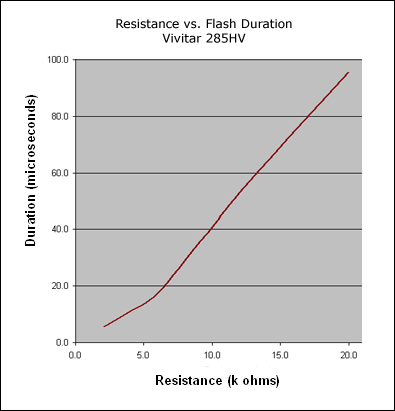 This graph doesn't tell the whole story, though. The flash does not turn on and off instantaneously. Rather, it takes a bit to start, then ramps up and ramps down. Here is what it looks like: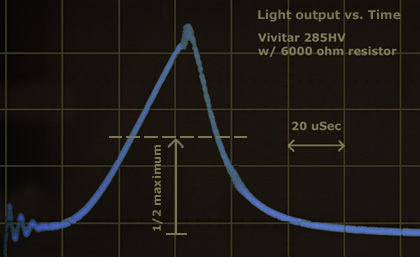 What would you call the duration? Typically, people measure the width of the curve at the half of its maximum power. Here, it is about 30 microseconds. Also, notice that it takes about 45 microseconds from the time the flash is fired until it reaches one half its maximum. Individual units have their own signature, too. The maximum output varies some between units, as does the shape of the curve.
It is a balancing act to get well-lit photographs. On the one hand, a short duration flash is needed to stop the motion. On the other hand, with the close focusing distance, a fairly small aperture is desired to get a good depth of field. But, that requires more light. This can be solved with careful placement of the flash and, sometimes, multiple flashes.
A bright, constant light source (photolamp) and a fast shutter speed can also be used to stop the motion. This works reasonably well if the shutter is electronic (that is, the sensor is turned on and off electronically) rather than a mechanical focal plane shutter. The main issue with a mechanical shutter is that it is difficult to get it to release at the precise moment you'd like. There is always a bit of dither: sometimes it releases 50 milliseconds after it is triggered, sometimes 60 milliseconds, sometimes 54, etc. Another problem with the focal plane shutter is that even though it may be a 1/2000th of a second or shorter, it achieves this by sliding a narrow slit across the film plane, so each part of the frame is exposed at a different time over a 1/200th of a second (which might be used to good effect, but is not generally desirable). Finally, most cameras have still relatively slow shutters: 1/4000th of a second is 250 microseconds – five times as long as what I like to use.
Next, Control