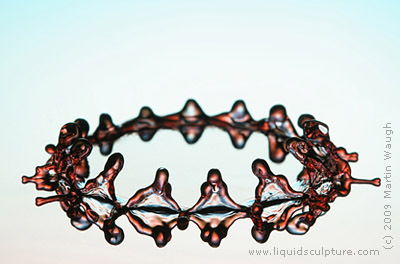 Every now and then I get a question about managing depth of field in drop photographs. Indeed, it can be a bit frustrating.
Depth of field is a perennial problem with macro photography. It's just the physics of it. The depth of field is shallower with higher magnification, so it makes little difference which lens you use, as long as you still magnify the same amount (I have a Java-based depth of field simulator where you can play around with these variables.)
There are three things you can do to get more depth of field; they all have their trade-offs:
Use a smaller aperture – this requires more light and hazards loss of sharpness due to diffraction
Back up some and crop – you will have a better depth of field, at the expense of resolution.
Choose a camera with a smaller sensor – unfortunately, these usually have fewer pixels than a larger sensor, so again, you lose resolution, and they often don't have as good of noise immunity.
It is often said (in fact, I just said it myself) that it makes no difference which lens you use as long as you use the same magnification. Well, this is a bit misleading. The mathematics are the same, but the visual effect is noticeably different. With a short lens, the background is not magnified as much as it is with a long lens, so it appears to be in better focus.
Having said all this, I often have to very carefully set my focus point (I use a macro slider to move the camera a bit closer or farther). It always seems to be a delicate balance.
On the other hand, a little bit of blurring toward the back does help give a sense of depth and even intimacy.