I realize that I haven't written about my trip to Boston.
Last August, I was invited out to Boston to help on the set of Discovery Channel's show, "Time Warp". It was an opportunity to finally get some high-speed video of the kind of drop-on-a-splash collisions that I have been photographing for years, but have never seen in video. I jumped at it and I am very glad I did.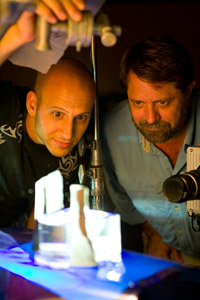 The crew was very hospitable, good humored, and accommodating. The host, Jeff Lieberman, and I share a number of interests, so we had a lot to talk about beyond the immediate task at hand. Jeff also told me that usually the segments are fairly tightly scripted, but in this case he convinced the director to just let us play while they filmed us. And, play we did.
We were on set for 10 hours, and then Jeff and I played for five more hours. There was a lot of footage that ended up on the cutting room floor, so to speak. What was most educational for me was seeing the relative speeds of the different stages of the collision. I had some sense of the variation, but seeing the complete collisions from start to end was still informative.
Shooting video is a bit different mindset than shooting stills since timing is not much of a issue. A lot of my electronic equipment was not necessary. The cameras we used were capturing at 10,000 fps w/HD quality, and would keep the most recent 2 seconds of data. So, I could fiddle around and when I saw something I liked, I just said "Stop", and we had the last 2 seconds to cut from. Of course, it isn't a dozen megapixels per frame.
The issue that is common between shooting video and stills is insufficient light. We were shooting at f/5.6 mostly, and even at that, we should have had more light. And, I wanted to be shooting at f/11 or f/16. For a back light, we used a bank of seven bulbs in a honeycomb pattern; each was 1500 watts, I believe. And we had a 7kW spotlight above. After a short while, the water was steaming and we were sweating. I hate to think what it would be like with enough hot lights to get another 2-4 stops of exposure.
All in all, I got everything I wanted out of the trip, and the resulting clip has been good to have around. It can be seen on YouTube.