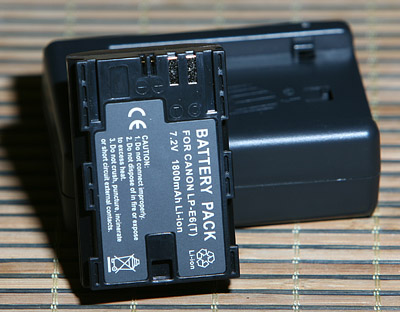 I recently purchased a Canon 5D Mk II. A fine camera it seems, and the added resolution will be helpful. One small issue is that Canon redesigned the battery. Well, times change and things progress, and we can always use better batteries. It uses the LP-E6 battery and the camera is not compatible with the good, old BP-511. Dang – the spare batteries I have for my old camera won't work.
So, I'm in the market for a new spare battery. A brand new, Canon LP-E6 costs around $80 plus shipping. Ouch. But, I find a great deal: an LP-E6 plus a charger for $60 from USBattery.net (Uh-oh, that's ".net" not ".com") I order one.
Well, it turns out that it is not, as it states on my order confirmation, a Canon LP-E6. Rather, it is a replacement for the Canon LP-E6. Except that it is not compatible with the Canon charger. Nor is the new charger compatible with the real Canon battery, I presume. Great – I have two batteries that look pretty much the same, but require their own chargers. Any time I travel, I have to pack two chargers.
Oh, and every time I plug it into the camera, it tells me: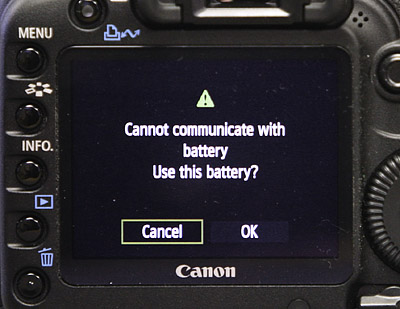 Sure, I can use the battery, but this message means that the camera can't tell how much charge is left in the the battery. So, a fully charged battery appears to be dead, according to the camera.
What I have is a replacement for the Canon battery, except that it doesn't work in the Canon charger, and it isn't compatible with the camera.
Sigh. Silly me.
*Update*
When I tether the camera to my computer via USB, Canon's EOS Utility software tells me that the the battery is low: